Get Help Today with Hernia Mesh Surgery Complications in Nevada
Hernia surgery is an extremely common surgery performed in the United States, with over 100,000 patients having a procedure of some kind done each year. Of those many surgeries, almost 90% of them are done with mesh implantations. Unfortunately, too many of these surgeries have serious complications afterward.
Several of the mesh implant devices used in hernia surgeries have been identified as being associated with serious patient injury. Having a hernia mesh attorney in Las Vegas NV that understands the complications of the procedure and the application materials is your best bet. If you've experienced side effects from hernia surgery done with a mesh implant, contact us today. Bighorn Law has won multi-million dollar medical lawsuits and will fight for the highest settlement.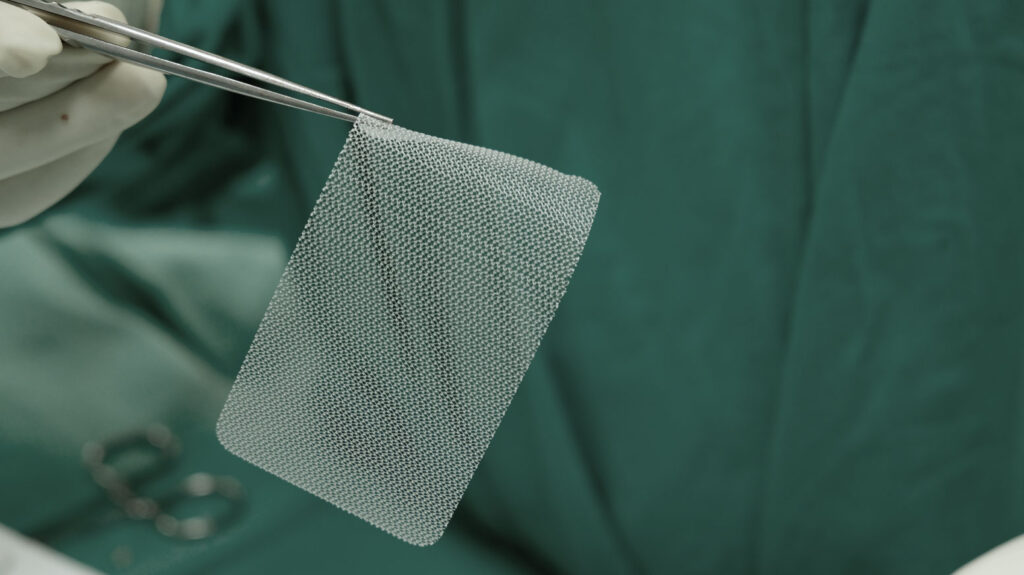 Why Choose Bighorn Law for Your Hernia Mesh Lawsuit
Since we were founded in 2012, our firm has recovered over $150 million for our clients. You can trust our attorneys to fight for your right to maximum compensation.
Our attorneys have decades of experience representing clients in their lawsuits against large institutions, including manufacturers of defective medical devices. 
Our firm wants you to focus on getting well and receiving the treatment that you deserve. You can leave all litigation-related matters to us and focus on recovering from your hernia mesh injury.
What is Hernia Mesh?
When someone has a hernia, there is weakened or damaged tissue that can cause extreme discomfort. One application to help repair a hernia is surgery using a hernia mesh, which helps support the weakened or damaged tissue. Some hernia mesh is made to remain permanently inside the body, while others are made to allow the body to absorb them when the hernia is healed.
Hernia mesh material is typically made of processed animal tissue or synthetics. Most often, the animal tissue material is made to be absorbed into the body eventually. Permanent hernia mesh material is made of synthetics like polypropylene. These materials can have negative effects on someone in terms of allergy or material wear, and can even come in contact with internal organs, causing additional issues. 
Making matters worse, many manufacturers are now often covering the synthetic material with a coating designed to help insulate the body from the material. This composite material often seems to create even more potential side effects.
There are many different types of hernias that can be repaired with hernia mesh and have the potential to have complications. They are:
Inguinal – Hernias occurring in the inner groin
Femoral – Hernias occurring in the upper thigh/outer groin
Incisional – Hernias occurring through an incision or scar in the abdomen
Ventral – Hernias occurring in the abdominal/ventral wall
Umbilical – Hernias occurring at the belly button
Hiatal – Hernias occurring inside the abdomen, along the upper diaphragm
Hernia mesh lawsuits are picking up steam around the country. If you live in Las Vegas or the surrounding areas of Nevada, get in touch with our hernia mesh specialist attorneys in Las Vegas here at Bighorn Law.
Side Effects and Complications from Hernia Mesh
Hernia mesh application has been associated with a myriad of health issues for individuals. These issues are known and have been reported to the U.S. Food and Drug Administration (FDA) through its Manufacturer and User Facility Device Experience (MAUDE) database. 
Reported hernia mesh side effects and complications include:
Inflammation
Infection
Chronic pain
Hernia recurrence
Adhesion
Allergic reaction
Fluid buildup called a seroma
Hematoma
Fistula formation
Tissue or mesh erosion
Need for additional surgeries
FDA Reports and Findings on Hernia Mesh
As early as April of 2016, the FDA has acknowledged issues and complications associated with hernia mesh. Some of their findings are as follows:
"The most common adverse events following hernia repair with mesh are pain, infection, hernia recurrence, adhesion, and bowel obstruction. Some other potential adverse events that can occur following hernia repair with mesh are mesh migration and mesh shrinkage (contraction).
Many complications related to hernia repair with surgical mesh that have been reported to the FDA have been associated with recalled mesh products that are no longer on the market. Pain, infection, recurrence, adhesion, obstruction, and perforation are the most common complications associated with recalled mesh. In the FDA's analysis of medical adverse event reports to the FDA, recalled mesh products were the main cause of bowel perforation and obstruction complications."
Companies such as Johnson and Johnson have removed their surgical mesh product due to high rates of complication. This was done largely to avoid being targeted with a recall.
Polypropylene, a main component of the synthetic mesh material, has been targeted with most of the blame around hernia mesh lawsuits. At this point, a material warning has been registered with the US Occupational Safety and Health Administration about polypropylene.
Hernia Mesh Lawsuits and Settlements
Lawsuits are being filed against Ethicon Inc. and Atrium Medical due to an increased risk of complications caused by their Physiomesh and C-Qur mesh products. These complications include recurring hernias, the need for additional surgeries, and increased pain following surgery.
These are not class action lawsuits. Class actions are filed by one or more people on behalf of a large group affected in the same way by the same person or entity. If a settlement or verdict is reached, it is distributed equally among the plaintiffs in the suit.
Hernia Mesh Lawsuits, on the other hand, are individual lawsuits. Even if they are certified as a mass tort or multidistrict litigation, any settlement or verdict reached is unique to each individual case. For example, when Ethicon agreed to settle between 2,000 and 3,000 lawsuits involving its transvaginal mesh products, the settlement was not divided equally among the plaintiffs. Instead, those who suffered the most damages were awarded the most money in the settlement.
How to Prove a Hernia Mesh Lawsuit in Nevada
Hernia mesh lawsuits fall under the legal area of product liability. These claims are filed against a manufacturer, distributor, and/or retailer for damages that are associated with a defective product. There are three types of product defects: manufacturing defects; design defects; and a failure to warn or provide adequate instructions.
To prove a hernia mesh lawsuit, you and your attorney will need to prove the following facts:
You were injured or suffered an illness.
Hernia mesh is defective.
The defect caused your injury.
You were using the product as the manufacturer intended.
Your attorney from Bighorn Law can help you build a compelling case to prove your right to compensation. We can leverage the wealth of scientific evidence available on the dangers of hernia mesh to support your case. Our firm will also enlist the help of expert witnesses who can testify on your behalf, such as researchers and medical professionals. 
What Compensation Is Available in a Hernia Mesh Claim?
In Nevada, you can recover two types of compensatory damages in a product liability lawsuit: economic and non-economic. Economic damages are the financial losses that you experienced, while non-economic damages refer to the pain and suffering that you endured.
Below are just a few examples of compensation that you could claim in a hernia mesh lawsuit:
Past and Future Medical Expenses: You can recover compensation to pay for any past and future medical care related to your hernia mesh injury. These expenses may include surgeries, hospital stays, and follow-up visits. Your medical expenses will make up a significant portion of your settlement.
Lost Wages and Benefits: You can recover any wages that you lost while seeking treatment for or recovering from your hernia mesh injury. If you are unable to work following the injury, you could also claim the future wages and benefits that you would have earned.
Disability Accommodations: If you develop any long-term complications due to the hernia mesh injury, you could recover compensation to pay for any accommodations that you require. Mobility equipment, live-in caretakers, and home modifications are common examples.
Pain and Suffering: A hernia mesh injury can be physically and emotionally traumatizing. In your lawsuit, you could recover compensation for pain and suffering such as permanent disability, chronic pain, emotional distress, depression, and anxiety.
What Is the Average Value of a Hernia Mesh Settlement?
Our clients often ask us the same question: "How much is my claim worth?"
It's important to remember that damages in hernia mesh cases depend on your individual losses. As a result, it can be difficult to estimate the value of your claim without speaking to a lawyer. Settlements can range in the hundreds of thousands to even millions of dollars.
There are certain factors that can influence the value of your lawsuit, such as:
The severity of your injuries
Your ability to return to work
Any long-term complications
The length of your recovery
The type of medical care that you require
To avoid financial hardship in the future, it's important to have a clear picture of your injuries and damages before you file a lawsuit. The lawyers at Bighorn Law can help you calculate your potential award and explore your opportunities for compensation.
Upon evaluating all relevant evidence, your lawyer can provide you with an accurate estimate of your injuries and damages. Whenever you receive a settlement offer, we will evaluate it against this number to ensure that it meets your needs.
How Long Do You Have to File a Hernia Mesh Lawsuit?
In Nevada, there is a four-year statute of limitations for product liability lawsuits. This means that you must file your lawsuit within four years from the date that you discovered or should have reasonably known about your hernia mesh injury. The court will dismiss your case if you don't file within this timeframe unless you qualify for an exception.
For example, say that you were under the age of 18 at the time of the injury. In this situation, you would have two years from your 18th birthday to file your hernia mesh lawsuit.
These exceptions do not apply to every case. To protect your lawsuit and avoid a dismissal, consult with a Las Vegas hernia mesh lawyer to determine your appropriate filing deadline.
Why You Need an Attorney for Your Hernia Mesh Injury Lawsuit
A hernia mesh lawsuit is not a legal matter that you want to face alone. In these situations, you need an attorney on your side who can represent your case, protect your best interests, and fight for your right to maximum compensation.
At Bighorn Law, our attorneys are dedicated to holding negligent manufacturers accountable and helping injured people recover the settlements that they deserve. Our Las Vegas hernia mesh attorneys can provide several important benefits, including:
Building Your Case: You may need significant scientific evidence and expert insight to prove your hernia mesh claim. Your attorney will have significant experience representing victims of this defective device and will leverage his or her resources and knowledge to craft a compelling case in your favor.
Handling All Legal Matters: When you are recovering from a painful hernia mesh injury, trying to file a lawsuit can be a stressful process. Your attorney will be able to handle all of these matters on your behalf so that you can focus on treatment.
Calculating Your Damages: Hernia mesh claims often result in significant damages and losses. Your attorney can calculate your potential settlement and help you determine the full value of your award.
Access to a Network of Medical Resources: At Bighorn Law, our care for our clients extends beyond our offices. We will connect you to our network of physicians, surgeons, and other medical professionals so that you can access the treatment that you need for your hernia mesh injury.
Hernia Mesh Attorney Help in Las Vegas
Hernia mesh lawsuits are picking up steam around the country. If you live in Las Vegas or the surrounding areas of Nevada, get in touch with our hernia mesh specialist attorneys in Las Vegas here at Bighorn Law.
There are many complicating aspects of hernia mesh side effects and how to properly file a claim. Our professionals can help with your case and get the results you deserve. Get help today by calling (702) 333-1111.