A Las Vegas Attorney Fighting Against Negligent Medical Practices
When a medical procedure goes wrong, it can have devastating consequences for the patient. Prolonged complications, lifelong medical issues, and even death can occur due to trouble during an operation or other medical procedure.
Unfortunately, in many cases, these scenarios could have been prevented. A medical professional, such as a doctor or nurse, may have acted negligently to cause an undesirable outcome that greatly affects someone's life. If this has happened to you or someone you love, getting a medical malpractice attorney in Las Vegas involved is the first step toward making things right. Bighorn Law will fight for you against negligent medical practices. We have won multi-million dollar cases, including a $13.6 million medical malpractice verdict.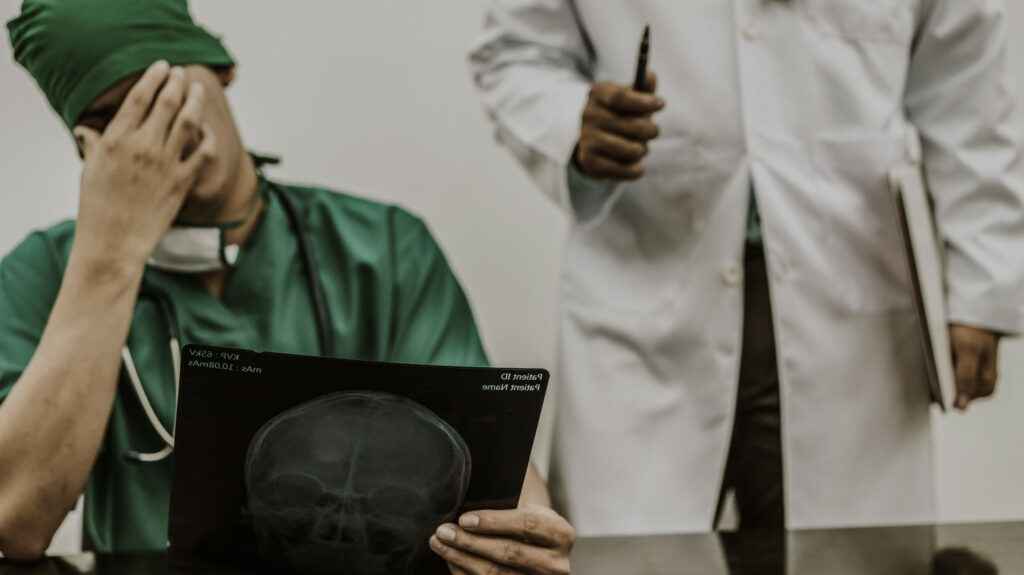 What is Medical Malpractice?
When a medical professional fails to uphold a standard level of care, it can be considered medical malpractice. The professional can be a doctor, nurse, anesthesiologist, physician, pediatrician, or another medical professional.
Some of the more common medical malpractice situations involve, but are not limited to the following:
Negligence within the hospital emergency room
Negligence or mistakes during an operation
Failure to diagnose a condition or delay in diagnosing a condition
Failure to treat a condition
Failure to refer to a specialist
Anesthesia and medication mistakes
Infection exposure within the hospital
Early release from care
Birth injuries
Robotic surgery machine infection
Bighorn Law will fight for you against negligent medical practices. We have won multi-million dollar cases, including a $13.6 million medical malpractice verdict.
How Do You Prove Medical Malpractice Occurred?
Proving that medical malpractice occurred can be very difficult, especially considering how greatly medical procedures may vary. A Las Vegas medical malpractice attorney should be consulted early on in the process to avoid any delay in making your case.
A medical malpractice case comes down to being able to prove that the standard level of care was not provided. In the medical field, the standard level of care is determined from what another qualified medical professional would have done, or could have been expected to do, during the same procedure. In addition, you will also need to be able to prove that any harm you received or any effects that you are now dealing with were directly related to the procedure that you underwent.
Due to the coverage of hospitals and doctors, there is limited financial recovery that you can receive from an insurance company. It will be difficult to make progress with a medical malpractice case on your own.
How Long Do I Have to Make a Medical Malpractice Claim in Nevada?
If you have been the victim of medical malpractice, you have a little time to take action, but you shouldn't delay. In certain cases, it may take time to become fully aware of a limitation that was caused following a procedure or other scenario.
In Nevada, if you plan to take action against a medical professional, you need to do so within three years following the date of the injury, or within one year after the injury is discovered. There are scenarios where individuals attempt to file a claim after this time period, but it is unlikely that the case will end in anything but a dismissal.
A Las Vegas medical practice law firm can help you align your documents and ensure that you don't miss any upcoming timeline in regard to your medical malpractice case.
How a Qualified Medical Malpractice Lawyer Can Help
If you are someone you care about was a victim of medical malpractice in Nevada, it is acceptable and fair for you to seek some form of compensation for what has happened to you.
But often, battling with medical professionals and their insurance companies to obtain the compensation you know you deserve is the last thing on your mind.
Medical malpractice cases can be costly, lengthy, and mentally taxing, particularly if you are recovering from your injury or continuing to suffer with a condition. This is where a qualified Nevada medical malpractice lawyer can help.
At Bighorn Law, we will fight on your behalf, so that you can focus on your physical recovery. Our skilled Nevada medical malpractice lawyers can assist you in many ways, most importantly, we will:
Review your case to determine if you have a viable medical malpractice claim
Victims of medical malpractice may find it difficult to seek legal representation for their case, particularly if they are in the midst of recovering from a misdiagnosed injury or other medical error. Some victims even wonder if they have a case at all. Our Nevada medical malpractice lawyers will examine the facts of your case and determine whether or not you have a reasonable medical malpractice claim to pursue.
Guide you through every step of the process
Once we have reviewed your case with the utmost care, and have established that there are grounds for legal proceedings, we will guide you through the legal process and ensure that you get full compensation for your current and future medical expenses, pain and suffering, and lost wages, as well as compensation for diminished quality of life. During the short time since its inception, our law firm has won more than $150 million in settlements for our clients, including a $13.6 million medical malpractice case.
Help you understand every aspect of your claim
Our knowledgeable medical malpractice lawyers will skillfully and sensitively work closely with you every step of the way, ensuring that you understand every aspect of your case and that you are as comfortable as possible with what is going on. With our help, you will retain control of the entire process while relying on our experience and expertise to succeed in your claim.
Help you and your family secure wrongful death compensation
If you are filing a claim on behalf of a loved one that died as a result of medical malpractice, we can help you and your family obtain the wrongful death compensation you may be entitled to receive. This compensation will help cover your loved one's final costs and much more, while also holding the person that caused you to lose someone you love accountable for their actions.
Handle your case on contingency fee basis
At Bighorn law, we handle personal injury cases, including those involving medical malpractice, on a contingency fee basis. This allows you to hire the services of a top-notch law firm without paying a dime upfront. If we take your case, we only get paid when your case is resolved and we have recovered compensation for you and your family.
How Much Money Can Be Recovered in a Medical Malpractice Case in Nevada?
Nevada has a damage cap that has been placed on how much someone can be awarded for non-economic damages. These kinds of damages include pain and suffering, and overall loss of happiness.
For medical malpractice cases in Nevada, the non-economic damages cap has been placed at $350,000. There are extreme circumstances that call for the cap to exceed this amount. They are:
The medical professional committed gross malpractice
Exceptional circumstances justify the cap to be exceeded
What To Do if You've Been the Victim of Medical Malpractice
If a doctor, nurse or other medical professionals has provided a substandard level of care, and you've been injured, fallen ill or have ongoing symptoms as a result, you have the right to take action against them. Unfortunately, the system has set medical malpractice lawsuits up to be extremely difficult to pursue – and there is limited liability on the part of the medical professionals.
Due to the complexity of a medical malpractice lawsuit, it's important to have an attorney on your side to gather all of the facts, compile the paperwork, find out the standard level of care for your situation, and much more. Bighorn Law has a successful track record as a top medical malpractice law firm in Las Vegas and surrounding Nevada.
It can be extremely difficult to take action against a medical professional, particularly if they are someone that you have known and trusted in the past. Bighorn Law will step in and deal with the difficult task of taking action against a medical professional and work on your behalf to recover what you are owed.
You aren't alone. We want to hear your story, and we want to help. Call us today at (702) 333-1111 or fill out a form on this page. We can start fighting for you as early as tomorrow. We fight. We win.