Experienced Attorneys for Aviation Accidents
Las Vegas has an extremely busy aviation community. McCarren International Airport in Las Vegas is one of the busiest airports in the world. And the surrounding terrain makes the entire state of Nevada very popular among aviation enthusiasts of all kinds – from planes to helicopters and other aircraft. 
Unfortunately, the extreme amount of air traffic increases the likelihood of airplane and aviation accidents happening in Las Vegas and the surrounding areas. Due to the nature of aviation, an accident can often be devastating, resulting in serious injury or death. If you've been involved in an airplane accident in Las Vegas, it's important to have an attorney involved that understands and has worked with aviation crashes in the past.
Bighorn Law has the experience to get you maximum compensation if you've been in an airplane accident.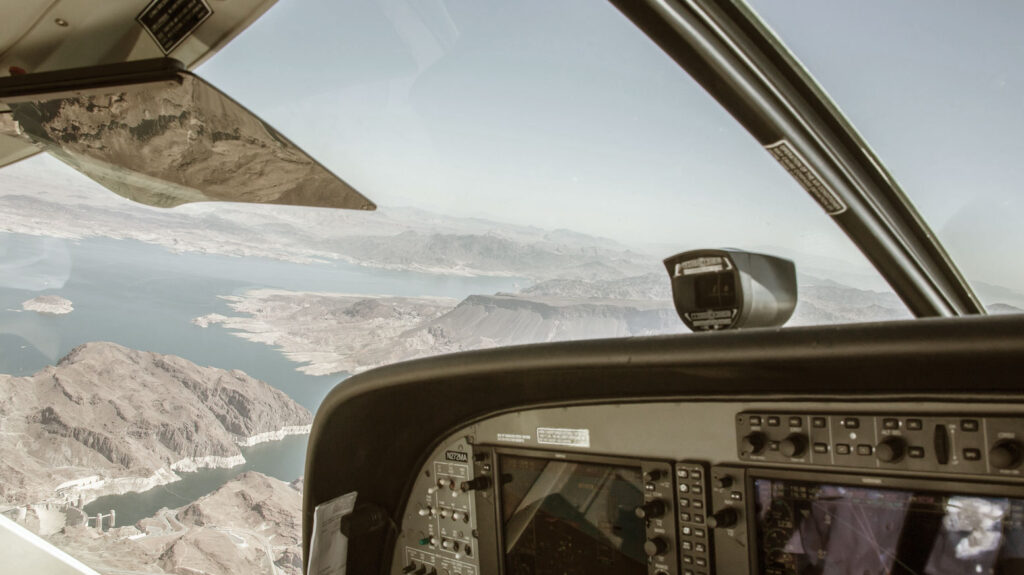 What Causes Airplanes to Crash?
Airplane accidents can happen for a variety of reasons. And they can occur in the air or on the runway during takeoff or landing – or even when sitting still. Some of the most common causes of aviation accidents include:
Defective Aircraft/Equipment – An issue with the design of the aircraft can lead to problems during the flight. A defective design can include instruments or the materials used in the aircraft itself.
Defective Materials – It is possible for the airplane equipment to fatigue sooner than it should if the company cuts corners on the development of materials. The materials themselves may have also been defective, unknown to the airplane manufacturer.
Equipment Failure – Airplane components are held to a high standard of performance. When a piece of equipment doesn't meet that standard, it can lead to a serious issue, such as a turbine failing in-flight or many other possible problems.
Pilot Error – The human element is often to blame for airplane accidents. If the pilot fails to follow one of the operational and safety rules when flying the aircraft, it can lead to other problems that cause the plane to crash. Pilot fatigue and inexperience can also be factors in accidents that have pilot failure as a cause.
Communication Errors – The pilot communicates with a control tower on the ground while flying an aircraft. During takeoff, flight, or landing there could be a communication mistake or misunderstanding that leads to an accident.
Maintenance Negligence – The FAA requires complete records to be kept in logbooks for an every aircraft. If routine maintenance is missed, it can lead to an equipment failure, as the piece of equipment might be asked to perform past its expected standard of performance.
Repair Negligence – Like every other mechanical vehicle, aircraft may need repair of broken or faulty equipment. Failure to repair something that has a known issue or recall can lead to an airplane crash.
It's extremely important for an attorney handling your aviation accident case to understand the complexities of FAA regulations and have a deep knowledge of airplane functionality. The Las Vegas airplane accident experts at Bighorn Law understand it all.
Who is at Fault When an Airplane Crashes in Nevada?
Given the severe nature of many airplane crashes, it can be difficult to find out the cause. Often the damage is so severe that it can take months to determine a cause. The National Transportation Safety Board and Federal Aviation Administration are in charge of investigating the cause of airplane accidents.
The investigation of the airplane crash will focus on the pilot, equipment, associated companies and much more. This can include less obvious potential sources such as parts manufacturers, materials suppliers, and individuals in charge of smaller tasks such as fueling the airplane.
Those found liable for the aviation accident can include the owner and operator of the airplane, manufacturer of the airplane, parts suppliers, maintenance staff and suppliers, the pilot, air traffic controllers, and potentially others. Once the cause is determined, a Las Vegas airplane accident attorney can determine what you may be entitled to.
What to Do After a Las Vegas Airplane Accident
Airplane accidents typically result in deadly consequences. There are many reasons why people are injured or killed in airplane accidents, from faulty equipment or bad weather conditions to human error, poor judgment, or lack of experience. 
Since you are reading this page, you or a family member was likely injured or killed in an airplane accident in Nevada, you have never been through anything like this before, and you are wondering what you should do now.
Since 2012, our law firm has been advising clients regarding what they should do in the days and weeks immediately following tragic accidents and helping them through the initial chaos and confusion. 
What follows are a number of suggestions that have helped our past clients deal with the aftermath of a tragic accident:
Take One Day at a Time
Take things one day at a time, and do only what you can do. First, take care of your immediate personal and family needs. Then seek professional counseling to help deal with the emotional trauma that you and your family are grappling with. 
See To Your Financial Matters
Make sure your financial matters are in order. File appropriate insurance claims and locate wills and other financial documents. 
Maintain Your Privacy
Maintain your privacy and be careful what you tell people, even investigators. Whatever you say can have permanence. What might seem like an innocent comment could have far-reaching effects on your ability to recover compensation for your losses.
Be Careful What You Sign
Be very careful about signing anything. Do not sign any settlement agreement with anyone, especially an insurance company, until you have talked to a qualified attorney. 
Contact a Qualified Las Vegas Airplane Accident Attorney
Contact an attorney for guidance as soon as possible, especially when considering signing documents. You may also need an attorney quickly to help with estate matters, workers' compensation claims, et cetera. But, for personal injury or wrongful death claims arising out of an airplane accident in Las Vegas, you will need an experienced personal injury lawyer who practices in airplane accident litigation in Nevada. 
You may find many competent attorneys who claim to handle airplane accidents, but it is vitally important to take the time and pick the right law firm and lawyer for you and your family. Take some time to locate and hire a skilled airplane accident lawyer with proven results. 
Why Choose Bighorn Law? 
At Bighorn Law, we practice law the traditional way, where we believe in a direct relationship between a lawyer and their client. We care about our clients, and we care about airplane safety. 
We believe that people who have been injured or lost loved ones in airplane accidents deserve to be compensated fully and fairly. We also believe that it is important to learn from airplane accidents, so they can be prevented in the future. 
Our law firm has the record to prove that we can take on any liable party and win, anywhere and anytime. Give us a call or email us without obligation. We will be happy to take all the time it takes to answer any questions you might have. 
An Experienced Airplane Accident Attorney in Las Vegas
A Las Vegas airplane accident attorney can determine your entitled compensation in terms of pain and suffering, medical expenses, lost wages, loss of a loved one, punitive damages, and much more. Digging deep into the accident is key due to the complexity, which is part of the advantage of having an attorney that is experienced with airplane crashes in Las Vegas. A variety of individuals or companies may be found liable for the accident, depending on the investigation. 
It's extremely important for an attorney handling your aviation accident case to understand the complexities of FAA regulations and have a deep knowledge of airplane functionality. The Las Vegas airplane accident professionals at Bighorn Law have a wealth of knowledge in these areas. The team's experience encompasses more than just traditional aircraft, as the team works with accidents concerning helicopters, gliders, hand-gliders, skydiving and much more. 
If you or a loved one have been involved in an aviation incident, give the professionals at Bighorn Law a call at (702) 333-1111 to get help today.