A Car Accident Attorney That Fights For You
Car accidents happen in an instant, but the after-effects can last much longer. In the immediate aftermath of an accident, the most important thing is ensuring that you and anyone with you are taken care of. The rest can be handled afterward.
When it comes to dealing with an injury caused by a car accident, you want an attorney on your side who understands what you're going through and has a proven track record. And injuries suffered in a car accident can be very different. There are more obvious immediate injuries like a broken arm. And then there are more long-term and dynamic injuries such as a concussion or traumatic brain injury.
An attorney that has seen it all will understand how to make your case successful. We are that experienced car accident attorney here in Las Vegas. Bighorn Law is known for big car accident settlements, including a $3.5 Million victory.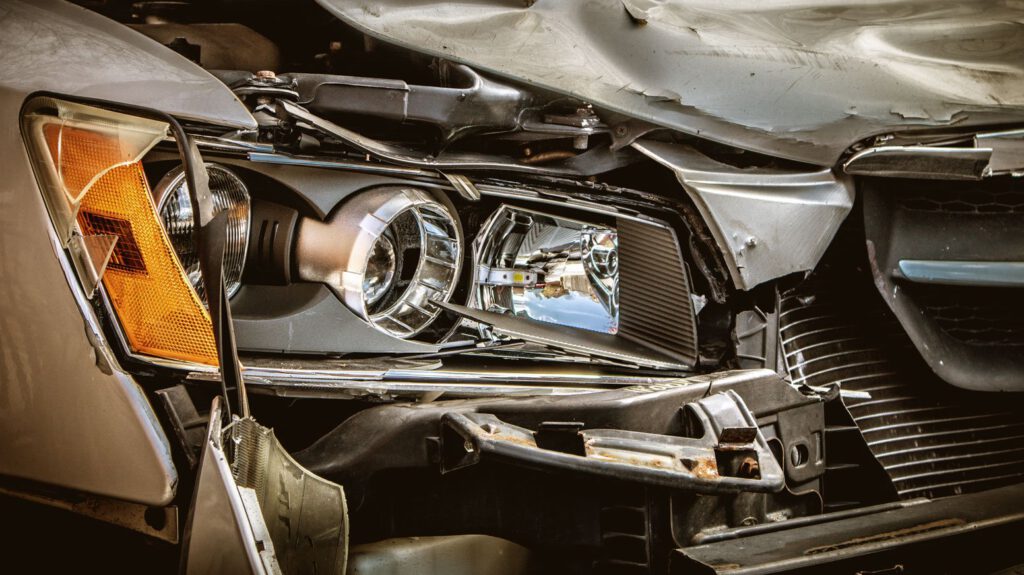 The Difference of An Experienced Car Accident Attorney
Working with an experienced Las Vegas car accident attorney increases the likelihood of being financially compensated by the liable parties as well as insurance companies for the injuries suffered in an accident. Car accidents can be very complex, and you may not be able to accurately have assessed the situation depending on your injury. Having an attorney like us on your side through a difficult situation like this ensures that you can spend your time healing and not dealing with how to be properly compensated.
When you work with Bighorn, you have a team dedicated to working in your best interest. We understand that it can also be bigger than just getting compensated for your immediate injury. Often, there are lost wages, property damage, and future surgical needs that have been caused by the auto accident. We take every factor into account when assessing your situation and work to make sure it is all taken care of without causing you more headaches that you don't need.
Insurance companies don't want to offer fair settlements to individuals – they are looking for the least expensive way to get out of the situation. Our experience allows us to see through this and make sure that the settlement you receive is fair for your whole situation. Don't sign off on a lower settlement before having us look at your case. The call to discuss your car accident is no-cost and risk-free.
Having the right car accident injury lawyer in Nevada is how you win the maximum money you are entitled to. Bighorn Law recently secured a $3.5 Million motor vehicle accident settlement.
Types of Vehicle Accidents That Can Lead to Injury
Bighorn Law specializes in securing large settlements for personal injury resulting from:
Common Car Accident Injuries
Any auto accident can result in an injury. Some are more serious than others in nature, but all should be taken seriously given the potential long-term effects. Here are some of the most common injuries that we see:
Spine, back, and neck injuries – These kinds of injuries can be extremely impactful to quality of life.
Brain injuries – From a concussion to a traumatic brain injury (TBI), these should be taken extremely seriously and fully evaluated over time. 
Broken and fractured bones – While most of these can heal in a shorter amount of time, they can lead to other long-term problems.
Organ damage – Not all injuries are obvious immediately. Internal organ damage is a big reason why a full assessment is necessary after an accident.
Internal bleeding – Similarly to organ damage, internal bleeding can be a silent issue that needs to be addressed right away.
Dismemberment and amputation – In a more serious accident, dismemberment or later amputation is possible, which affects quality of life down the road. 
Severe burns – Fires are a great risk in car accidents, and burns can cause temporary and permanent damage. 
Permanent scarring – Scars can be cosmetic or debilitating, depending on the injury.
Common Causes of Car Accidents
Car accidents happen every day in Las Vegas. The causes of the accidents, and the injuries involved, can be very different. If you are involved in an accident that happens due to the negligence of others, you should be compensated. Here are some of the most common Las Vegas car accidents that an attorney should be involved in.
Distracted Driving
One of the most concerning trends when it comes to car accidents is the frequency of distracted driving-related incidents. The emergence of smartphones over the past decade has made this a major issue, as drivers are looking at their phones instead of the road ahead of them. Other forms of distracted driving that are not smartphone-related include operating a GPS, eating, dealing with children, and others.
Drunk Driver
Drivers who are under the influence of alcohol or other drugs continue to pose a serious risk to other motorists. Drivers who are under the influence can fall asleep, hallucinate, and lose control of their vehicle – or operate their vehicle in a very unsafe manner. Often, the fact that they are under the influence can actually benefit them from receiving serious injuries in an accident, although the other parties can be seriously hurt.
Speeding Drivers
Speed is still a major factor when it comes to car accidents. Whether just going a few miles an hour over the speed limit, or much faster, stopping time decreases when something happens, increasing the likelihood of an accident occurring. Rear-end and head-on collisions are common when excessive speed is involved.
Reckless Driving
Even when a vehicle operator isn't driving under the influence, they can still be a reckless driver. This can be due to lack of experience behind the wheel or just a lack of care for others on the road. Not coming to a complete stop, not using signals, speeding and changing lanes erratically all qualify as reckless driving.
Running an Intersection
Not all drivers stop appropriately at a red light. Some may speed up on yellow or wrongly anticipate a green. Others roll through stop signs without a second glance at the traffic around them. All of these situations are opportunities for accidents to occur.
Common Car Accident Questions for Las Vegas Drivers
When an accident occurs, you will have a lot of questions right away. It's good to know how the Nevada laws are laid out in relation to claims that you will have to make, who is at fault, and other concerns.
Sentence to highlight: You'll be asked important questions soon after an accident that can impact the results of your case. It's important to contact an attorney as soon as you can.
What Is My Personal Injury Claim Worth If I was Hurt in a Car Crash?
This will largely depend on the severity of your injury, which is why being evaluated quickly and fully is so important. Every car accident has its own unique circumstances, which makes having an experienced Las Vegas car accident attorney on your side vital.
Do I Need to Make a Police Report?
While a police report isn't always a requirement, not having one on file can raise concerns with the validity of your claim. For example, the insurance company may question whether the accident even occurred if there is no recorded police report. It also creates an issue with lack of evidence, as a large part of the police report being filed is to secure proper evidence that can later be used in a claim.
Who Is at Fault in a Nevada Car Accident?
Nevada is an at-fault car insurance state. This means that the motorist who caused the accident is the one responsible for paying the incurring damages. Fault is determined by negligence, or failure to act with a reasonable degree of care. This doesn't necessarily mean that the driver broke the law, either. They can still be held liable for the accident. An investigation into the accident will help determine the amount of fault for the drivers in the incident. A possible outcome is also that a percentage of liability is given to both drivers.
What Should I Do If an Insurance Adjuster Calls After My Car Accident?
Receiving a call from an adjuster after an accident is common, yet you needn't respond to their questions. The adjuster works on behalf of the insurance company, not you.
Insurance adjusters seek information like copies of the police report and hospital bills to confirm your medical expenses. They may also want estimates on damage to your vehicle or personal property. Many adjusters will check your claims history to find information that could discredit you or justify a lower settlement offer.
When you partner with an experienced attorney, they will coordinate and respond to these requests on your behalf to make a solid case and secure your right to the maximum potential compensation. It's essential you don't apologize or admit fault since this could reduce your chances of a fair settlement.
If you've retained a car accident attorney in Las Vegas or elsewhere, provide the adjuster with the lawyer's name and contact information. If you haven't yet hired an attorney, tell the adjuster you plan to and will forward your auto accident law firm's name and phone number in the future.
Do I Have to Accept the First Offer I Receive for an Auto Accident Claim?
The insurance company wants to resolve the case with as little expense as possible. You don't have to accept a low first offer, especially if it isn't enough to cover all the expenses. An experienced traffic accident attorney fights to receive a settlement to care for all your needs.
Will the Insurance Company Compensate Me for My Injuries Resulting From a Car Accident?
The company insuring the at-fault driver is responsible for paying for medical treatment costs and vehicle damage you incur. Policies may also cover other expenses, like damage to your personal property. Depending on the at-fault driver's insurance policy, they may also be personally liable for compensation after a certain amount if compensation exceeds their policy limits. Additionally, other parties may be liable for compensating you depending on their roles in the accident. For example, a defective vehicle manufacturer may need to pay you under product liability laws.
State laws can also impact the amount that each party could be liable for, such as Utah, which is a no-fault state where Personal Injury Protection (PIP) impacts the nuances of the case.
Seek the advice of a skillful car accident lawyer to ensure the maximum fair settlement for you and your family.
How Long Does a Las Vegas Car Accident Claim Take?
First, no two car accident claims are the same. The facts of the accident put each case on a different timeline. Furthermore, there are several factors that can impact the time it takes for your car accident claim to be resolved, most importantly:
If your injuries are minor, you may only need a few weeks of chiropractic therapy to recover. On the other hand, if you have suffered serious injuries, you may require advanced surgery and lengthy hospitalization, which could take months or years.
The nature of your injuries have an effect on the time it takes to resolve your car accident claim because we can't settle your claim until they have been thoroughly evaluated and treated, and we have a good idea of what medical expenses you can expect to incur in the future.
Settle your car accident claim too soon, and you may be left with a substantial amount of unclaimed medical expenses to pay for out of your own pockets.
Whether we need to file a lawsuit
Whether or not a settlement can be reached is also a factor in how long it will take your car accident claim to resolve. If we can't reach a reasonable settlement agreement with the at fault driver's insurance company, filing a lawsuit may become necessary.
Filing a lawsuit sends the case into litigation, and it may be many months or years before a case is resolved. For this reason, our lawyers always try to settle a case prior to filing suit.
However, there are instances when filing a lawsuit is absolutely necessary, and we are not afraid to do so when necessary to recover all the compensation our client deserves. In Nevada, you have two years from the date of the accident to file a lawsuit to recover damages.
That said, it can take from a couple of months to a few years to resolve your Las Vegas car accident claim. Our goal, however, is to get you the best and quickest settlement possible given the circumstances of your accident and your injuries.
Common Mistakes That Can Jeopardize Your Nevada Car Accident Claim
Whether or not you truly believe you were at fault for the car accident, admitting fault can be used against you. Even if you are partly at fault, there are still many defenses that must first be considered. Admitting fault before all the facts have been investigated will only cause you legal trouble and frustrate any possibility of ever recovering compensation for your damages.
Failing to Collect Evidence
Make sure to collect the physical identification and insurance information of the other drivers involved in the accident. Also, take photos of the scene with your phone. It is also important to collect contact information from anyone who witnessed the accident, so you can contact them when needed.
Not Seeking Medical Treatment
Many people fail to seek medical treatment after a car accident. This is often because they don't think their injuries need medical attention. But some injuries, like concussions and whiplash, are not symptomatic immediately after an accident, but progress over time. Failing to seek immediate and ongoing medical treatment after a car accident will call into question the veracity and severity of your injuries if and when you file a car accident claim for damages.
Posting Too Much on Social Media
Insurance companies often monitor the internet. Sites like Facebook and Instagram are a bonanza for insurance companies looking to find dirt on claimants, so they can minimize or deny paying them a claim.
If the liable insurance company discovers evidence online, such as photos and/or videos of you dancing, partying, or engaging in athletic activities, which suggest that you are not as injured as you say you are, then they will attack your credibility by claiming that you were exaggerating your injuries, even if you are truly as injured as you claim to be.
The best way to prevent your social media posts from being used against you is to refrain from posting anything until your car accident claim has been resolved. While this may not be easy, it is the only sure way to avoid posting something that can be used to limit or deny your claim.
Not Contacting an Experienced Nevada Car Accident Attorney
Never give a recorded statement to any insurance company without first consulting with a qualified car accident attorney. Your car accident attorney can communicate with the liable insurance companies on your behalf, while you focus on healing from your injuries.
Insurance companies love it when you give them a recorded statement about your accident. They will ask you questions about the accident nicely, only to lock you into admitting to certain details that they will use against you later. An experienced car accident attorney can do the talking for you, so that you don't inadvertently say something that will harm your car accident claim.
10 Common Car Accident Myths
A car accident settlement will make you rich
The truth is overwhelming. The majority of car accidents settlements do not result in huge amounts of money. So, rather than expecting to get rich, a more reasonable approach is to expect to be compensated fairly for your medical bills, lost wages, pain and suffering, and other related losses, and hope that the at-fault driver has enough insurance to cover all of your damages.
You should get the same settlement that other people you know got for their car accident
The truth is, every case is different and the value of a car accident case depends on a variety of factors, such as fault, insurance coverage, and your specific injuries. It is, therefore, unreasonable to expect to get the exact same settlement that your brother-in-law, friend, neighbor, or co-worker got in a different case.
The liable insurance company will automatically make you a reasonable offer
The truth is, insurance companies are in business to make a profit, and they often do this by paying out less than a claim is worth. So, do not expect the liable insurance company to offer you fair compensation upfront.
You must give the other driver's insurance company a recorded statement
The truth is, you do not owe the other driver's insurance company a recorded statement, and it is a bad idea to give them a statement before you talk to a lawyer.
All lawyers have the same abilities, experience, and resources to handle your case
The truth is, not all lawyers are created equal. Some are better at handling car accident cases than others. It is up to you to look into a lawyer's experience, qualifications, and reputation to determine who is the best fit for you and your case.
You cannot afford to hire an attorney because the upfront costs are too high
The truth is most lawyers who handle car accident claims do so on a contingency fee basis. This means the lawyer is not paid anything upfront. Instead, they collect a fee at the end of the case, if and only if they recover compensation on your behalf.
The insurance company for the at-fault driver must pay your medical bills as they accrue
That is not true. Unfortunately, most insurance companies will not pay you anything until you settle your claim. However, a good attorney may be able to help you get the medical treatment you need while your case is pending.
Because the accident was not your fault, there must be some coverage available to pay for your medical bills, lost wages, and pain and suffering
Unfortunately, that is false. The truth is, there is not always enough insurance or money available to pay for your injuries and losses. However, a good attorney can help you find out what is available and maximize your recovery.
If you make a claim against your own insurance company, your rates will go up
This is also false. The truth is, in many cases, you can make a claim against your insurance company for uninsured or underinsured motorist coverage or medical payments coverage, without affecting your rates at all.
Nevada juries are generous
Juries are made up of people, and in Nevada, these people are pretty conservative. So, do not expect to hit the lottery with a Nevada jury.
Experienced Attorneys in Las Vegas and Nevada
With so many factors in play in a car accident, having the right attorney involved is the difference between being appropriately compensated for any injuries that occur. Bighorn Law is very experienced in personal injury claims, with car accidents being a specialty. Giving us a call is completely risk-free, as it is completely confidential and free to talk to an attorney about your car accident. Give us a call today at (702) 333-1111 or fill out a form on this site.