An Accident Attorney For Vegas Bikers
The freedom of the open road. We understand the pride that Vegas riders have for their bikes – we're bike-lovers ourselves. That's why we're here to help you if something goes wrong. The damage to your bike is bad enough. But if you were injured, you need representation that understands your situation.
Insurance companies often see bikers as being "reckless drivers." This bias makes it extremely important to know your rights and get a motorcycle attorney on your side right away. We know that experienced riders can do everything right and still be involved in an accident. We're the solution to your motorcycle accident problems here in Las Vegas.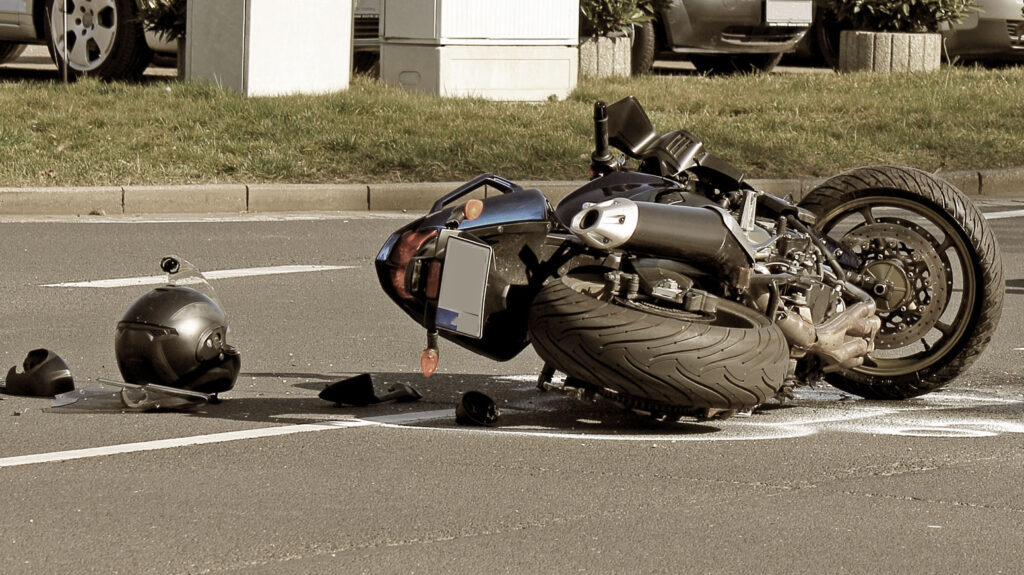 Going with an Experienced Motorcycle Accident Attorney
When you are injured in a motorcycle accident, getting the right attorney on your side immediately is vital. The experience of the attorney will determine the compensation that you ultimately receive for your injury.
We have worked with motorcycle accident victims for years, and have a high rate of success in getting people the settlement they deserve. Our experience allows us to find paths to winning a personal injury claim in many different scenarios. You can contact our lawyers today for a no-cost, risk-free evaluation of your case.
At Bighorn Law, we understand Las Vegas bikers because we are Las Vegas bikers. We've seen it all and are ready to represent you no matter the circumstance. If you've been in a motorcycle accident, Bighorn has your back.
Common Motorcycle Accident Injuries
An impact on a vehicle can mean serious injury to a motorcycle rider. Many injuries are unique to motorcycle riders, and all need to be evaluated properly. Some of the most common are: 
Facial Fractures – Given the lack of a shell around a motorcycle, a facial fracture can be common when the head makes contact with another object. 
Broken Bones – In addition to facial fractures, the momentum of being pitched through the air in an accident can lead to numerous broken bones. 
Internal Bleeding – Even when there is no major external damage, a direct body impact in a motorcycle accident can cause dangerous internal bleeding. 
Whiplash – The force of the head moving in a given direction can cause damaging whiplash, which can affect someone's ability to move their neck and cause a lot of lasting pain.
Concussion – Impact to the head from a variety of scenarios can cause a concussion of differing severity, often leading to long-term effects. 
Traumatic Brain Injury (TBI) – A traumatic brain injury can occur when there is severe trauma to the head. This can be a lifelong issue of different levels of severity. 
Burns – Road rash and other burns can occur when someone slides on the pavement or if there is associated contact with hot surfaces or fire. 
Disfigurement – Impacts from motorcycle accidents can lead to permanent disfigurement due to loss of tissue. 
Spinal Cord Injuries – Depending on the nature of the accident, a spinal cord injury can occur which can lead to full paralysis or other debilitating issues. 
Amputations – Unfortunately, some injuries are severe enough that a limb cannot be saved, leading to amputation. 
Nerve Damage – Severe impacts can lead to nerve damage that may never fully be restored or be lost forever. 
Long-Term Impact of Motorcycle Injuries
In addition to the obvious short-term pain and suffering that motorcycle accidents can cause, there are many long-term implications. When an accident happens, all of this should be evaluated quickly, and witness statements and evidence should be gathered as much as possible at the scene as well. Getting a Las Vegas motorcycle accident attorney involved early will greatly improve the chances of a successful settlement. 
Some of the common long-term impacts include:
Mounting medical bills due to emergency and ongoing care
Loss of income due to time off of work
Diminished quality of life due to debilitating injuries
Chronic pain associated with injuries
Mental impairment due to serious head injury
Depression, stress, or other factors related to mounting injuries and financial burden
Common Types of Motorcycle Accidents in Nevada
As stated above, no matter your experience as a rider, an accident can happen. Motorcycles lend themselves to dangerous situations that other motorists may not recognize. Some common accident types in Las Vegas and Nevada that we see include:
Head-On Collisions – When a motorcycle impacts another vehicle head-on – this is often the most serious of all motorcycle accidents.
Left-Turn Accident – This is fairly common where another vehicle will hit a motorcycle making a left turn at an intersection.
Lane-Switching – It is easy for a motorcycle to be in a vehicle's blind spot which can lead to a collision when there is a lane change.
Lane-Splitting – Motorcycles may split lanes with vehicles, which leads to an impact. While this is not recommended, it doesn't mean that no compensation for an injury is possible.
What is Required for a Successful Motorcycle Accident Injury Claim?
To succeed, your motorcycle accident claim must satisfy the following three requirements:
Liability
This usually means that the defendant was 100% at fault, and you were not at fault at all for the accident or your injuries. However, in some cases, you may succeed in recovering compensation even if you were partially at fault.
In Nevada, liability for damages sustained in a motorcycle accident is based on negligence. In other words, you must prove that negligence on the part of the defendant makes them at fault for the accident and liable to compensate you for your damages.
So, to succeed in your motorcycle accident claim, your attorney must prove, among other things, the following essential elements of a negligence claim:
Duty – the defendant had a legal obligation to use reasonable care to avoid injuring you
Breach of duty – the defendant failed to exercise reasonable care to avoid injuring you
Proximate cause – your injuries are a direct result of the defendant's breach of reasonable care.
Damages
Injuries and losses that you can prove were caused by the accident. Damages related to bodily injuries are proven by seeking medical treatment, so a doctor can document the type of injuries you suffered, what kind of treatment you received, and your prognosis for recovery.
The Ability to Recover
If the person that caused the accident does not have enough funds (typically insurance coverage) to compensate you for your damages, you do not have a viable motorcycle accident claim. This is why it is important to work with an experienced motorcycle accident attorney who can perform a thorough investigation of the defendant before you go forward with your case.
What to DO After a Motorcycle Accident in Las Vegas
After being injured in a motorcycle accident, it is important to do certain things to preserve evidence and protect your right to compensation. Here are some things that you SHOULD do after a motorcycle accident in Las Vegas:
Seek Immediate Medical Attention
After a motorcycle accident, you must seek immediate medical attention for any injuries you have sustained. Visit a doctor even if you suffered only minor injuries. Failing to seek medical attention after a motorcycle accident is the biggest mistake you can make that can adversely affect your motorcycle accident claim.
Report the Accident
Unless a law enforcement officer comes to the scene of your motorcycle accident and makes an official report, you are required by law to file a Report of Traffic Crash (within 10 days) whenever anyone was injured or killed or the accident resulted in more than $750 in damages.
Take Photos
If possible, take as many photographs as you can of the scene of the accident, your injuries, and any other things that may have significant relevance to your motorcycle accident and what caused it.
Collect Information
Collect the names, addresses, and contact information of anyone involved in the accident, as well as of anyone who witnessed the accident.
Contact an Attorney
Contact an experienced motorcycle accident attorney who can investigate the cause of the accident, assist with identifying those responsible, and help you pursue maximum compensation for your injuries and losses. When choosing an attorney to assist you with your Las Vegas motorcycle accident case, here are some qualities you should look for:
Experience – does the lawyer have experience handling motorcycle accident cases? Our Las Vegas motorcycle accident attorneys have decades of experience fighting for the rights of accident victims in Nevada, including those who were injured in serious motorcycle accidents.
Resources – does the lawyer have the resources needed to succeed in your case? Our attorneys have the funds necessary to pursue your motorcycle accident claim to a successful resolution, as well as a network of highly qualified experts to call upon whenever needed to support your claim for compensation.
Results – can the lawyer demonstrate successful results? Our attorneys can show you past verdicts and settlements they have achieved in motorcycle accident cases like yours. Since 2012, our law firm has obtained more than $150 million in compensation for our clients.
Attention – you should feel like you are receiving individualized attention and that your questions and concerns are being heard. Our attorneys will work closely with you as your case moves towards resolution. They will listen carefully to you and to your family members to learn the many ways the motorcycle accident has affected the various aspects of your lives, and ensure that you and your family are compensated for all of your losses.
Testimonials and client reviews – can the attorney show you good testimonials and client reviews? You can read the reviews on our website to see what it is like to work with a personal injury attorney from our law firm. Bighorn Law has been honored by peers and independent research groups for exemplary and professional achievement in their field. In 2020, our attorneys were named in the Top 100 personal injury attorneys in the nation.
What to NOT DO After a Motorcycle Accident in Las Vegas
It is equally important after a motorcycle accident to refrain from doing anything that can harm your case. Here are a few things that you SHOULD NOT do after a Las Vegas motorcycle accident:
Do Not Admit Fault
Do not admit fault or say anything, like "I'm sorry," that can make you look responsible for the accident in which you were injured.
Do Not Discuss Your Case
Do not discuss your case with anyone unless directed to do so by an experienced motorcycle accident attorney. If you must provide law enforcement with details, only provide the facts. Never make any assumptions or conclusions.
Do Not Give Any Recorded Statement
Do not give a recorded statement to any representative of any insurance company unless instructed to do so by your attorney.
Do Not Sign Any Documents
Do not sign any document pertaining to the accident or your injuries, unless it is a consent to receive medical treatment or the police report taken by the officer at the scene of the accident, or unless instructed to do so by your attorney.
Your Motorcycle Accident Authority in Las Vegas and Nevada
At Bighorn Law, we understand Las Vegas bikers because we are Las Vegas bikers. We've seen it all and are ready to represent you no matter the circumstance. The call is no-cost and risk-free, so if you are unsure about your case, there is nothing to lose. Having an attorney involved early on is often the difference for bikers that suffer an injury due to the neglect of others. Call today at (702) 333-1111.