Standing Up for Bicycle Accident Victims in Nevada
Las Vegas is a great city for bicyclists. Biking to work is common for locals within the city, and the outreaching regions of Vegas and Nevada provide outstanding outdoor biking trails. But all that biking activity means that bicycle accident are unfortunately common as well.
Given the Las Vegas landscape, bicycle accidents involving automobiles are most commonly how bike riders get injured. And being that automobiles have a huge size advantage over bikes, it is often a bad situation for bikers when the two collide. If you've been injured in a car versus bike accident, or have been injured on your bike due to no fault of your own, it's important to report the accident and get representation right away.
Many bike accidents go unreported, but the bike rider may not realize their injuries until much later. Don't let this happen to you. Get a Las Vegas bicycle accident attorney on your side today.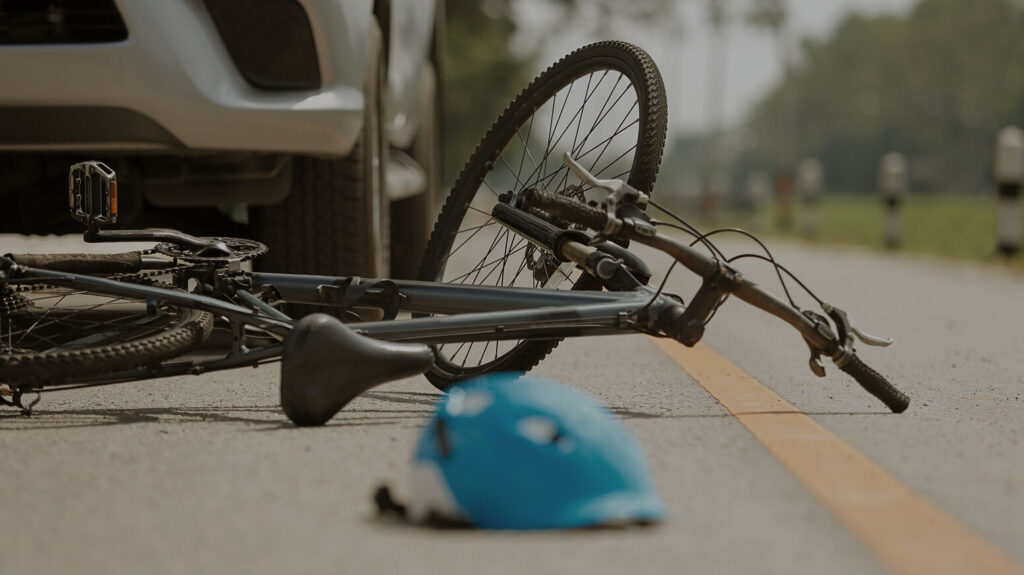 I Was in a Bicycle Accident in Las Vegas. What Should I Do?
While biking is often a serene activity to take part in, when an accident happens, it can be extremely scary. It's very important to try to stay calm and get attention for your injuries right away. Once your immediate medical concerns are addressed, you should report the accident to authorities. Also document the accident on your own if you are able to.
Once you have taken care of your health, reported the accident, and documented what you can, you should contact a Las Vegas bicycle accident attorney. An experienced local attorney can help you with bringing proper action against who is liable for the accident. If another vehicle was involved, there may be other parties involved than just the driver themselves. The driver's employer, their insurance company, and even your insurance company may need to get involved. A lawyer can help sort through the difficult liability piece of your bicycle accident.
Given that the time you have to bring a claim against someone is limited, you need to speak to a Las Vegas law firm early on. You will need to be compensated for your damages, medical bills, and more. An attorney can help to make sure that you get everything you are entitled to.
If you've been injured in a bicycle accident, it's likely not your fault. Get an attorney that will stand up for your rights as a bicyclist and fight for maximum compensation. Bighorn Law has won numerous multi-million dollar personal injury settlements.
What are the Most Common Bicycle versus Automobile Accidents? 
While not every bicycle accident involves a motor vehicle, they are the most common by far. This is especially true in Las Vegas, where the streets are often very congested, causing poor visibility and difficulty for bikers and pedestrians. There is also tourist traffic in the city, and the drivers may not be completely familiar with the city streets.
The most common types of bicycle versus automobile accidents are:
An automobile makes a right turn into a bicycle. This is probably the most common type of accident with cars and bicycles. When stopped at a red light, drivers are often concerned with cross-traffic and do not look to see if a bicycle has the right away, causing a collision.
An automobile makes a left turn into a bicycle. While not as common as right-hand turning accidents, vehicles do have a difficult time seeing bicycles when making left-hand turns, particularly when there is cross traffic to contend with that may have blocked their view of the bike.
A driver opens their door and hits a bicycle. Given the tight city streets of Las Vegas, it is easy for someone to park and open their door without checking for bicycle traffic. This collision may happen when the vehicle is stopped, but can still cause serious damage to the bicycle rider and the bike.
A vehicle rear-ends a bicycle. Again, the crowded streets of Las Vegas come into play here, as a motorist may not be paying attention to the actions of a bicyclist, causing them to rear-end them just as they may a car or truck. Unfortunately for the bike rider, they don't have a vehicle around them to protect themselves in this scenario.
Do I Need an Attorney if I'm in a Bicycle Accident?
It is common for bicyclists to feel like they were at fault or not report an accident. But the fact is, bicycles have the right away in many scenarios. For this reason, it is important to have an attorney evaluate your Las Vegas bicycle accident.
With a Las Vegas bicycle accident attorney on your side, you are able to get an advantage in a situation that is often not set up in your favor. Some of the many steps that an attorney will take to evaluate your bicycle accident include, but are not limited to:
Fully investigate your accident, including going to the accident scene
Review the police report and details of the report versus what you have documented
Speak with witnesses of the accident
Speak with medical professionals to understand the scope of your injuries
Work with insurance companies to produce a favorable result
Represent you in court
Negotiate a settlement outside of court
Work the complexities of liability
What To Do After a Las Vegas Bicycle Accident
What you do after a bicycle accident can make a real difference in how you are treated by the legal system, and ultimately, how well you recover both physically and financially. What follows is a discussion of 1) what you should do while waiting for the police to arrive, 2) what you should do to document the accident, and 3) what you should do to document your injuries.
While Waiting for the Police to Arrive
If you were involved in a bicycle accident that took place on a public road, whether you were struck by a car, a truck, a motorcycle, or even another bicyclist, the first thing to do is assess how injured you are. If you cannot move, don't try. If you can move out of the street, do so to avoid further injury to yourself or to others who may be trying to assist you.
Unless you are absolutely certain that you and no one else are injured, call 911 and wait for emergency medical personnel and the police to arrive at the scene. Many people who have been involved in bicycle accidents don't realize that they have been injured until several hours after the accident.
If the police are on their way, wait for them to arrive, so they can document everything in a police report. The responding officer may also issue a traffic ticket to the other party involved, which can be helpful later on when you are trying to settle a bicycle accident claim with the liable insurance company, or if you find yourself in court.
When Documenting The Accident
Take Notes About the Accident
As soon as you are in a safe place, make a mental note about the accident, including details of what, how, when, and where the accident happened, as well as, the road, traffic, and weather conditions if they are relevant. Then, as soon as you are able, write all of this information down in a safe place.
Get the names of the other parties involved, as well as, their address, phone number, driver's license number, license plate number, and any insurance information if you can. Also, try to collect the names and contact information of anyone who witnessed the accident. Do not assume the police report will include all this information because it may not. If you were injured and cannot collect this information yourself, ask a bystander to do it for you.
If you can, leave your bike and any other damaged items in the same position and condition as they were immediately after the accident. Do not fix or clean anything if you can avoid doing so, and take good quality photos of the damage to your bicycle and other property.
When Documenting Your Injuries
Seek Immediate Medical Attention
Seek immediate medical attention for any injuries you have sustained, even if they are minor. If you are not taken by ambulance to an emergency room, go to your local urgent care facility or your primary care physician to get checked out as soon as possible after the accident.
The medical records created will serve as proof that you were injured and the extent of your injuries. They will also be valuable if you file a lawsuit and need to prove a causal connection between the bicycle accident and your injuries.
The rush of adrenaline you feel after an accident can sometimes mask injuries that later develop into serious and permanent medical conditions. But, if you do not seek immediate medical attention after your bicycle accident, you may never be able to recover compensation if you do turn out to be injured.
Take Photos of Your Injuries and Document Your Recovery
Like with your damaged property, take photos of your injuries as soon as possible after the accident, and try to give scale to any photos with common household objects. Then, continue to document your recovery, how your injuries are healing, and any side effects you are experiencing. A few photos, a few minutes of video, or a paragraph of written material every week can provide critical information and a timeline of your recovery that can be very important if you find yourself in court later.
Consult With a Qualified Las Vegas Bicycle Accident Attorney
Before talking to an adjuster from any insurance company, even your own, or before you sign any documents concerning the bicycle accident and your injuries, consult with a qualified Las Vegas bicycle accident lawyer. Anything you say or sign can be used against you later if you need to file a lawsuit to recover compensation for the damages you sustained in the accident.
An experienced Las Vegas bicycle accident attorney can help preserve your right to be compensated for any medical bills, lost wages, and pain and suffering, and advise you on the best course of action to recover the most compensation possible.
A Bicycle Accident Attorney for Las Vegas Residents
If you've been in a bicycle accident and have been injured as a result, it is likely not your fault. After tending to your physical needs and reporting the accident, give us a call. Bighorn Law has a wealth of experience assisting Las Vegas bicycle accident victims.
Get in touch with an expert today by calling (702) 333-1111 or filling out a form on this page. We will start helping you today.