Truck Accident Law Firm in Nevada
Get the help you need after a truck accident by contacting our law firm today. Our truck accident injury lawyers can help you with the logistics of your case to ensure you get the settlement you deserve.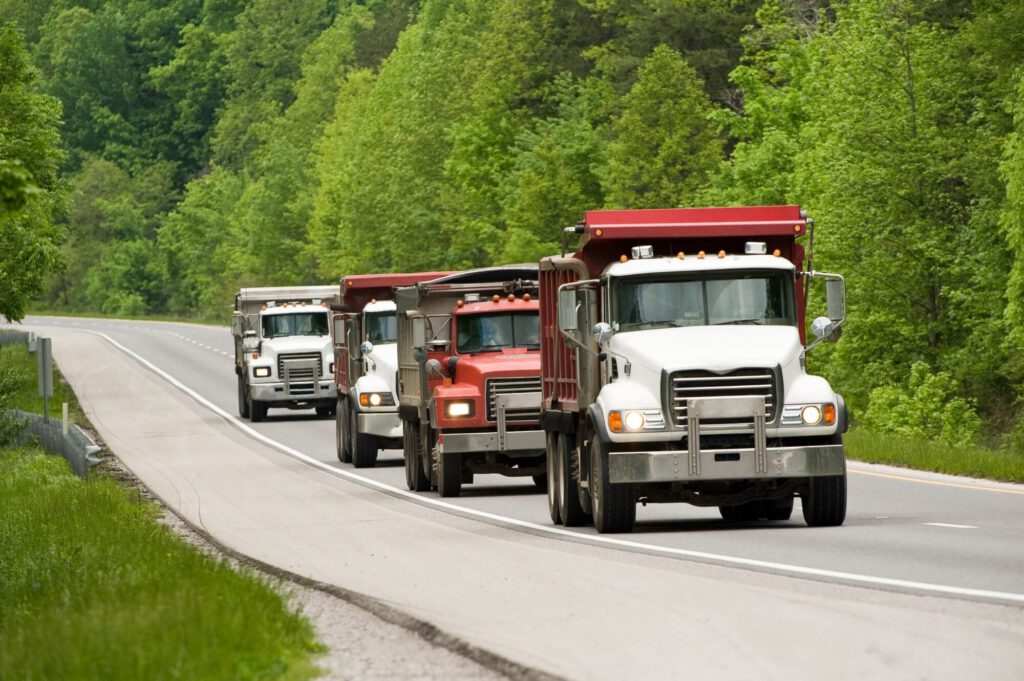 Common Types of Truck Accident Injuries
Truck accidents can occur in several ways. Some of the most common types of incidents with trucks include:
Blindspot crashes: Blindspots make it more difficult for the driver to see other vehicles or pedestrians.
Head-on collisions: Trucks crash into other cars because of distracted driving, fatigue and mechanical failure.
T-bone accidents: Trucks that do not or cannot stop at red lights and stop signs are likely to run into another vehicle in their path.
Spilled load accidents: Cargo that comes loose or detached can fall into roadways and cause accidents.
Rear-end collisions: Truck drivers who suddenly apply the brakes can alarm other drivers, often causing the two vehicles to crash.
Wide turn accidents: Truckers have to make large turns at intersections. Since the trucks are big and take up a significant amount of roadway during a turn, this can lead to accidents.
Rollovers: Trucks that roll over in or around a roadway can cause injury to the driver and potential problems for other motorists.
Factors That Are Considered to Establish Responsibility in a Truck Accident
Laws on both the federal and state level regulate the trucking industry. The Federal Motor Carrier Safety Administration (FMCSA) also presides over regulations for trucks. When it comes to establishing responsibility as a result of a truck accident, the FMCSA offers these guidelines:
Operation hours: Truck drivers are restricted and monitored in specific amounts to avoid fatigue.
Driver experience and licenses: Drivers need to have the appropriate commercial license to drive a truck. Their overall experience influences whether the individual can continue to operate.
Material hazards: Truck drivers sometimes carry hazardous materials. These drivers are regulated more because of the danger associated with hazardous materials.
Truck inspection: Truck drivers and companies must ensure the vehicle is surveyed for regular inspections and passes.
An Experienced Attorney Can Recover the Compensation You Deserve
There are several factors at play after a truck accident. The trucking company and their insurance provider should pay the losses you incur from a truck accident. Many truck accidents leave you with medical expenses and bills. We can help you recover losses like:
Medical bills
Physical therapy or rehabilitation costs
Unearned or lost wages as a result of missing work
Education and training for a career change you are forced to make
Additional equipment or changes for home or work life
What is the Average Settlement for a Las Vegas Truck Accident?
People injured in any type of personal injury accident usually want to know what their case is worth. That is a very natural question, especially after suffering serious injuries, mounting medical bills, and significant lost wages as a result of a truck accident
The Las Vegas truck accident lawyers at Bighorn Law understand that no single answer applies to every truck accident case. Instead, there are a variety of factors that can affect the settlement value of each truck accident case in a different way. 
Some of the most important factors that can affect the value of your truck accident case include the following:
Your Injuries
Generally speaking, injuries have different values because they cause different amounts of pain and suffering. A good rule of thumb is that an injury closer to the center of your body is worth more than an injury that is further away. For example, a broken hand is generally worth more than a broken finger, and a broken shoulder is typically worth more than a broken hand. 
Also, an injury that is higher up on the body is often worth more. An injury to the lumbar spine and lower back that causes paraplegia is usually worth less than an injury to the cervical spine or neck that causes quadriplegia. There are, of course, exceptions to this rule, but this is generally true in the vast majority of cases. 
Your Lost Wages
Lost wages are caused by your inability to work after an accident due to disability, surgeries, agony, or conscious pain and suffering. The more lost wages you have, the more compensation you may be entitled to, increasing the value of your settlement. 
Loss of Future Earnings or Employment Opportunities
If you can no longer work in the same line of employment because of your injuries and disability, you may be entitled to recover compensation for the differences in your earning potential and job opportunities. If you will be earning less, the difference will be attributed to each year for the rest of your working life. This means that a younger individual who has more time before retirement will often have a higher loss of future earnings claim than an older individual who may be closer to retirement. 
Your Out-of-pocket Medical Expenses
Even the best health insurance does not cover everything. Some injury victims will still have co-pays, deductibles, or coverage limits. Individuals who have unreimbursed medical expenses may be entitled to recover them in their truck accident claim. 
Your Age, Family, Health, and Other Considerations
Other factors that will contribute to the value of your claim include your age because your future pain and suffering is often measured by your remaining life expectancy. Your family life also matters because individuals who are married or have dependents may be entitled to a claim for loss of consortium or income support. In contrast, if you are not married and have no dependents, you may not be able to claim compensation for loss of consortium and support. 
Any pre-existing injuries you had at the time of the accident may also negatively affect your settlement amount. However, do not downplay any preexisting injury. Tell your treating physician about it and let the process take its course. In some cases, you may be entitled to more compensation because of a preexisting injury, not less.
What to Do After a Truck Accident in Las Vegas
An accident with a large truck can result in serious injuries. After the accident, your first priority should be getting the medical treatment you need. 
Seek immediate medical care if you have sustained any injury or if you are experiencing any type of pain after the accident. Some injuries take hours or days to become symptomatic.
Along with seeking immediate medical treatment, there are other steps that you should take after a truck accident to help preserve evidence and build a strong case for compensation:
Collect Information
If you are physically able, collect the names, phone numbers, and addresses of the other drivers involved and anyone who witnessed the accident. Also, remember to get the name and contact details of the trucking company the driver works for.
Take Photographs and Document Evidence
If you can, take photographs of the scene of the accident, damage to your vehicle, and your injuries. Also, write a detailed description of exactly how the accident occurred, including the direction you were traveling, the lane you were in, the speed you were going, the road conditions, the weather, etc. Doing these things can help your lawyer build a strong case against the liable driver, trucking company, and their insurance carrier. 
Beware of the Insurance Adjuster 
An adjuster for the trucking company's insurance carrier may come to the scene of the accident or call you very soon after to offer you a lowball settlement. When this happens, you should not accept this offer or attempt to negotiate with them. 
Most importantly, do not provide the adjuster with any recorded statement or sign any documents they present you with. Remember, the adjuster works for the liable insurance company. Their ultimate goal is to pay you as little as possible for your truck accident claim. 
Contact an Experienced Truck Accident Lawyer in Nevada or Utah 
Trucking companies deal with truck accident cases every day. They have the experience and resources needed to defend themselves after a serious truck accident and protect their interest. This is why anyone who has been injured in an accident with a commercial truck needs an experienced truck accident attorney to represent them and protect their rights. 
The skilled Las Vegas truck accident lawyers at Bighorn Law possess an in-depth knowledge of trucking industry regulations and can determine if a violation of these regulations is what caused your Las Vegas truck accident. We will rely on our many years of experience handling truck accidents to investigate your claim, collect evidence, and assist you with recovering the compensation you and your family need and deserve for your injuries and financial losses.
When to Hire a Truck Accident Lawyer in Las Vegas, Nevada
Call a truck accident attorney as soon as possible to ensure you receive the maximum benefits you deserve. The sooner we are involved, the more likely we can recover your losses.
Schedule a Free Consultation With Bighorn Law
Our experienced truck accident attorneys are standing by and ready to assist you after a truck accident. Request a free consultation with us online or give us a call today at (702) 333-1111.